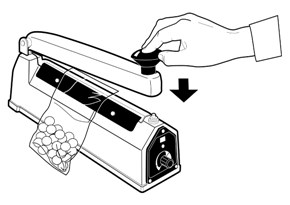 TIS sealers provide an air tight seal on all the bags made of polyethylene, cast polypropylene and PVC films, up to 80 microns.
These sealers can be placed anywhere in offices, shops, laboratories, wherever bags are used. They only need a V230 single phase plug, and are always ready for use.

Just put the bag between the jaws, press the lever and wait until the pilot light goes off. The sealing time can be regulated according to the bag's gauge.
Average sealing time is 2 seconds.
The sealing ribbon is 2 mm wide.
Other options are available on request: