Sealing bars are always supplied on request. They can be discussed with Cibra's engineers in order to suit your needs.
Most requested types of seal are:

- ribbon seal:
Film is not cut. Seal looks like a ribbon, like the sealing resistance that is usually 3 mm wide. In some cases it can be increased to 4, 6, 8 or 12 mm. Resistances can be placed only on one bar, or on both of them. These bars require impulse heating.


- "micro-ribbon" seal:
A hot wire seal, performed by a round resistance wire through a Teflon protection that avoids fumes and presses the melted plastic into a ribbon 1 mm wide. Film is cut and both sides of the cut are sealed.
This type of seal is the most suitable on bubble film, expanded polyethylene and TNT (non-woven tissue).


- ribbon seal with central cut:
This type of seal cuts the film and guarantees an air-tight seal on both sides of the cut. One bar seals by means of a resistance 8 mm or 12 mm wide, while a round wire on the other bar cuts the melted film in the middle of the ribbon seal. Each side of the cut remains sealed to the edge with a 4 mm seal (or a 6 mm seal when the ribbon resistance is 12 mm wide).
This seal is suited for bags and tubular films that contain contaminated items (such as filters) or any type of product that should not be dispersed in the air.


GENERAL FEATURES
A few features apply to all types of sealing bars:
in case they are mounted on a machine or line controlled by PLC, they can be supplied without electrical feeding
when electrical feeding and controls are required, they can be placed on a simple base to be inserted in your line, or in a standard UNI box. Dimensions of the base or box depend on the size and quantity of the electric and electronic parts.
bars longer than 60 cm can be supplied with a supporting structure complete with moving cylinders (see picture).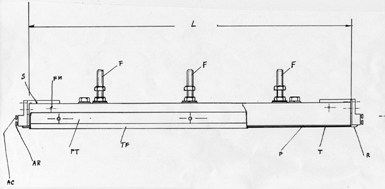 basic scheme of a sealing bar

NOTE
In planning the use of sealing bars please keep on mind the following tips:
the seal cannot possibly be very near to the content of your package. It sill take place at least 15 mm away from the point in which the two sides of the wrapping film reach each other (see sketch).
when the bars close on the film in order to perform the seal, film must not have any tension.
sealing time and cool-off time are dictated by the film being sealed. Very seldom the cycle can go below 3 seconds. Ribbon seal easily requires 4-6 seconds.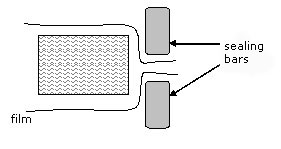 Cibra's engineers are at your orders
to help you find the right solution
to your sealing problems.